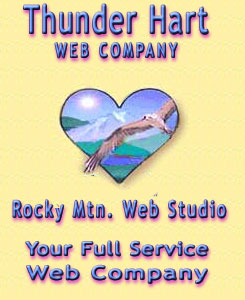 Web Design for Success

Thunder Hart Web Company's Rocky Mtn. Web Studio is a full service design studio offering extensive web design, development, and web management - as well as fine graphic arts services. Our clients, from small business in California to major corporations New York, and from individual entrepreneurs to world wide non-profits all hold one trait in common: They are serious about their success. And so are we. Our success depends on their succeeding!

A well designed site places high in search engines without paying for positioning, markets itself, is easy for people to use, and loads fast.

For Your Information

GIGA, the Cambridge based market research group found that 95% of all Business Web Sites did not meet the five minimum standards for usability.

We design far above those minimum standards - so your site can be the elite of the cream of the crop!


What Makes A Successful Web Site Design?
Free Web Marketing read
A well designed site markets itself. Some companies spend hundreds of thousands of dollars each month to market their web site... on the web! Our sites are designed to market themselves.

Free Search Engine Positioning read
A well designed site places high in search engines... naturally. Some companies spend over a thousand dollars per month to try to have their site place high in the search engines. When placement is built into the design, there is no need for additional spending.

Navigational Ease read
No body likes getting lost in a web site. Statistics show that not being able to easily navigate on a web site, and complicated purchasing procedures are the # 1 & # 2 reasons for lost Internet sales. A well designed web site is easy to use.

Fast Loading read
What matters to Internet users is speed. In our design, every second of download time is carefully thought out and the content is thoroughly weighed and balanced for speed. We design for speed.
---
Copyright © 1995, 1997, 2001, 2003, 2005, 2007, 2010, 2014 Thunder Hart Web Company / Rocky Mountain Web Studio
ALL RIGHTS RESERVED.
Terms under which this website & our services are made available to you. Our Privacy Policy
---